Beyond Uniforms & Apparel
Beyond Uniforms & Apparel specializes in promotional products, uniforms of all kinds (public safety, team, school, etc.), corporate apparel, awards, and other logo'd items. We provide our customers with a full-service operation from picking out products, designing logo's, purchasing and decorating products to delivery at your door. If you have any questions, please feel free to contact us. Thank you and enjoy!
Featured Item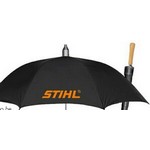 The Drip Catcher Fashion Auto Opening Um...
Fashionable 48" canopy arc with automatic opening feature. Unique folding sheath that acts as a drip catcher when umbrella is closed. Round metal shaft and straight wood handle. Unique product designe...
$12.99 - $15.99